About Dubai Ultimate Challenge
This brand new seven-episode travel adventure series takes you on an exciting journey around Dubai with social media influencers from Singapore, Malaysia and Indonesia. As you follow the three teams along their Dubai jaunt, hosted by Asia's Got Talent's Alan Wong and Justin Bratton, you'll discover a side of the city you never knew existed. Their itineraries and challenges are jam-packed with adrenaline-pumping activities like sky-diving at The Palm Jumeirah and shopping for the best traditional outfits, to learning music at the Al Marmoom Bedouin and discovering the new trendy art district of Alserkal Avenue. At the end of each episode, teams are judged based on their social content they create. Soak in the sights and sounds of Dubai, and maybe even pick up social media tips from top influencers. What's not to love?
Dubai Ultimate Challenge debuts Nov 18, and airs Mon and Wed at 7.40pm on AXN Asia. Watch the weekly simulcast on https://www.visitdubai.com/en/discover/dubaiultimatechallenge.
#DubaiTeamINDO:
Ammar Zoni (@ammarzoni) and Edho Zell (@edhozell)
Ammar's an actor and vlogger who's up for an adventure; Edho's a foodie, vlogger and businessman who doesn't shy away from a challenge. How will the sole team of guys match up against the ladies?
#DubaiTeamMY:
Sharifah Sakinah (@sharifah_sakinah) and Siti Saleha (@sallywho)
These ladies are no strangers to the camera. Both Sharifah and Siti are actresses from Malaysia who've bagged awards and recognition for their work. But how will they fare on this adventure when no script is involved?
#DubaiTeamSG:
Melissa Koh (@melissackoh) and Sophia Chong (@sophiachong)
Will this sassy duo be able to pull off the challenges in Dubai, while looking as glam as they usually do on Instagram? Keep your eyes peeled for what Melissa, mum of one and founder of a lifestyle portal, and Sophia, self-professed adrenaline junkie and founder of a clothing line, get up to in Dubai.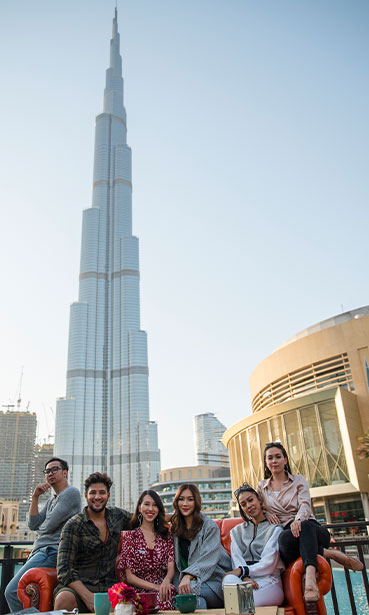 Support your favourite team and win an Ultimate Dubai experience for you and a friend!
All you have to do is to leave a comment to cheer on your favourite team in the comments section of any Dubai Ultimate Challenge social media post on Visit Dubai, AXN Asia's Facebook and/or Instagram page, or your favourite team's official pages. Include #DubaiUltimateChallenge and your favourite team's hashtag in your comment, whether it's #DubaiTeamINDO, #DubaiTeamMY or #DubaiTeamSG. Only one team hashtag per comment is allowed. If your team wins, you stand a chance to win as well. Submit as many entries as you like, but remember to set your account as public to be eligible for the contest.
Contest ends on Sunday, Dec 17, 2019 at 11.59pm (SGT). Go to https://www.visitdubai.com/en/discover/dubaiultimatechallenge/dubai-ultimate-challenge-fan-contest for more info.